19 Jan 2023
IFA engagement at the Climate Change and Biodiversity COPs (Conference of Parties)
IFA participated in both COP 27 in Sharm el Sheikh and the Biodiversity COP 15 in Montréal during November and December last year. Our objectives for these events were to highlight the solutions the industry brings to high profile global challenges; to increase our members' visibility in these spaces; to understand the main global trends around these topics and how they fit within our own sustainability journey and to report on the outcomes of negotiations on agriculture, market-based mechanisms and biodiversity targets.
Here we present a brief recap of the events IFA led and/or participated in at COP 27 and COP 15, and some important outcomes.
We'd like to thank the following IFA member companies that took part in our delegation:
Nutrien
OCI
OCP
Toros
Yara
IFA at the Climate COP 27 - November 6-18, Sharm El Sheikh
IFA's engagement at COP27 revolved around three key themes:
Soil health
Innovation and the future of farming
Financing mechanisms for farmers and smallholders
IFA was one of the lead organizers of a day dedicated to Soil Health at the first-ever Food Systems Pavilion at COP27. Together with the other organizations engaging in the Coalition of Action for Soil Health (CA4SH), IFA organized 4 high-level events on 11 November exploring different opportunities to improve soil health globally for food security, climate change mitigation and ecosystem services.
Soils as an asset: Galvanizing public support to achieve our shared ambitions for NDCs: This session, moderated by Alzbeta Klein, focused on the development of practical and implementable public policy at the global, regional, national and local levels to drive successful outcomes for improving soil health and the uptake of best management practices at the farm level, but also for including it more prominently in the NDCs. Thank you to the OECD, IFPRI, the Syngenta Group, the Australian government, OCP and FinDev Canada for their participation.

images: Soils as an asset

Taste the Soil, the Silent Ally that Feeds You: this demonstration session sought to establish the link between soil health and human health, illustrating how healthy soil affects the quality of food we consume, through the examples of coffee, wine and tomatoes. Thank you to FRANPAN, Sustainable Production Systems, Moët Hennessy, BASF, Farm Africa and CropLife International for their participation in this panel.

images: Taste the soil

Food Security Partnerships, Programs and Policy Solutions: The Ground We Need to Feed: the event examined the diversity of value chain partnerships that help drive sustainable and productive agriculture programs with tangible outcomes that are essential in our current and future food security. We thank Clim-Eat, Dr. Rattan Lal, the Government of Canada, the United States of America Farmers & Ranchers in Action (USFRA), the Meridian Institute, the Forum for Agriculture Research in Africa (FARA), Nutrien and Bayer Crop Sciences for their interventions and examples of successful partnerships.

images: Food Security partnerships

The Soil Health Resolution: This plenary session was dedicated to explaining the objectives of a global Resolution on Soil Health, which includes several commitments for Member States to enable and scale healthy soil practices. Thanks to this successful event, six governments and several international organizations have thus far expressed their support and interest in the Resolution, to potentially take it forward at COP28.

images: Soil health Resolution plenary
All sessions that took place at the Food Systems Pavilion were recorded, and are available to rewatch on its dedicated YouTube channel.
The second key theme for IFA was innovation and the future of farming.
IFA co-organized an event on 12 November at the International Chamber of Commerce Pavilion focusing on the role of innovations and innovation-enabling policies to climate-proof farming systems, with the kind participation of the OECD, World Farmers' Organization, Farm Africa, the Syngenta Group, Nutrien and Bayer Crop Science.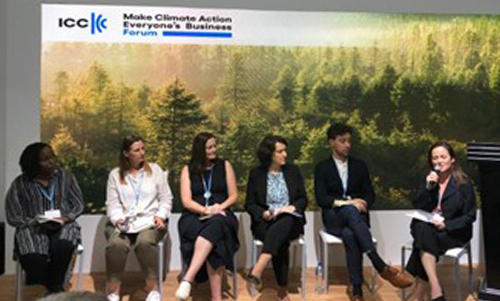 image: Future of Farming event
IFA also promoted innovations in fertilizer production and participated in a high-level event organized by the Egyptian government and the EBRD (European Bank for Reconstruction & Development) on 11 November, which focused on the development of a low-carbon ammonia roadmap for Egypt, following the recommendations of the Global ATR published at COP26 by the IEA with the support of IFA and the EBRD. We thank the Egyptian government, EBRD, ThyssenKrupp Egypt, the Egyptian Chamber of Chemical Industries (FEI), OCI N.V. and ERM/E4tech for this excellent discussion.
image: EBRD event
The third area of focus for IFA was finance, and more specifically financing mechanisms for farmers and smallholders to help them better access inputs and contribute to global food security.
On 12 November, IFA took part in the launch event of the United States government's Global Fertilizer Challenge which raised $135 million in new funding for fertilizer efficiency to combat shortages and food insecurity. IFA CEO Alzbeta Klein represented the industry on the panel, which also included the U.S. Special Envoy for Climate Richard Duke, U.S. Secretary of Agriculture Tom Vilsack, USAID Administrator Samantha Power, EU Agriculture Commissioner Janusz Wojciechowski, Norwegian Minister Anne Beathe Tvinnereim, German State Secretary Jochen Flasbarth, Dutch Ambassador Marcel Beukeboom, African Union Commissioner Josefa Sacko, and Colombia Vice Minister Villegas.
image: Fertilizer Challenge
Last but not least, IFA co-organized an official side event on 14 November with partners IRRI (Int. Rice Research Institute), EDF (Environmental Defense Fund) and SACAU (South African Confederation of Agricultural Unions) on bridging the financing gap to support smallholders in food systems transformation. We thank the panel, moderated by Clim-Eat founder Dhanush Dinesh, and BMZ State Secretary Jochen Flasbarth, for their excellent interventions.
image: smallholder event
IFA at the Biodiversity COP 15 - December 7-19, Montréal
IFA's objectives during this COP were to increase the industry's visibility and highlight its important contribution to biodiversity protection, understand the key issues being discussed by country negotiators and observer organizations and identify priority areas for IFA members to focus on when tackling this issue within their companies.
IFA's takeaways from this COP:
The finance sector is getting ahead of other business groups and industries and will shape how the topic will be addressed.
Private sector needs to define an international standard for reporting on biodiversity.
There will be increasing pressure on businesses in the coming years to disclose their impacts on biodiversity and to make concrete advances in the protection of biodiversity.
The key challenges for business in this space will be the lack of available data to track and monitor progress or the impact of best practices; how to attribute progress to an individual economic or human intervention, operating without regulatory clarity and incentivizing companies to take action.
IFA has already begun working on this issue through its Biodiversity Taskforce.
To join the task force, or to learn more about this topic, please contact Director of Sustainability, Volker Andresen or Director of Public Affairs, Yvonne Harz-Pitre.