16 Aug 2022
IFA Annual Conference 2022 – Market Themes and Key Takeaways
How to navigate market risks while pursuing sustainability goals was the focus of the IFA Annual Conference in Vienna, Austria. The conference brought together the key players in the fertilizer industry. Expert speakers and panelists brought insights into short- and long-term systemic risks and discussed strategies for increasing value for all stakeholders at this dynamic time in the global economy.
This blog post summarizes the discussion and debates that took place on May 30 – 31, and key takeaways from industry leaders.
Navigating risks in pursuit of sustainability
Alzbeta Klein, IFA CEO/Director General opened the conference by quoting the writer Mark Twain: "Prediction is very difficult, especially if it's about the future." Klein went on to highlight key risks such as uncertainty around global economic growth, food security and energy. She voiced confidence in the fertilizer industry to navigate these waters and to continue to help feed the world sustainably by working on solutions with all stakeholders.
Svein Tore Holsether, Yara International's President and CEO, and IFA Chair, set the scene, drawing attention to how the burden of the food crisis will fall most heavily on the world's poorest. A global crisis has emanated from the war in Ukraine, climate change, Covid-19 and commodity price inflation. There was a strong call for stakeholders to come together to address both the food and climate change crises. Examples of potential actions to help mitigate the food crisis include humanitarian donations made directly to the end users, or support to global initiatives that aim to alleviate disruption in the production and trade of food/grains and fertilizers globally.
Shari Friedman, Eurasia Group's Managing Director, Climate and Sustainability highlighted the importance of addressing climate change and its potential impact on food security. This is particularly linked to emissions from the agriculture sector and measures being put in place to meet the net zero-emissions targets either set by companies or countries, such as Incitec Pivot's net zero target by 2050 in Australia. In the following session, Jeanne Johns, Incitec Pivot's Managing Director and CEO, indicated that within the fertilizer sector, emissions are being addressed through the promotion and adoption of precision agriculture, application of high efficiency fertilizers, bio-fertilizers, research and development, and exploring alternative projects such as green ammonia production.
Friedman emphasized that climate is a financial risk and there is a need for financial due diligence, to assess and seize the opportunities that come with the climate crisis. The Middle East and Africa are expected to be impacted by extreme weather, low crop yields and high food prices. The development of stronger policies with a long-term view are needed to address this cycle between climate and food. Energy efficiency is also an area with a crucial impact on sustainability. Shifts in energy strategy are also being observed in light of the actions of Russia in Ukraine, with the European Union (EU) exploring alternative sources of gas to replace Russian natural gas with liquefied natural gas and hydrogen and the response in the US to meet demand for gas both locally and in the EU.
Raviv Zoller, ICL Fertilizers' President and CEO, reiterated the need to set in place harmonized sustainability criteria that stakeholders can use to measure their impact that will ultimately drive innovation (coupled with recognition of efforts) within the sector. Transparency is key.
Alexander Schmitt, Anglo American's Chief Marketing Officer called for the need to think outside the box with regards to sustainability. If we do things the way we've always done them, we will always have the same results, Schmitt said. In order to be carbon neutral in the coming decades, there's a need to structure the solution by looking at the benefits to be accrued by stakeholders. There is a need to switch to Smart Tech such as renewable energy and looking at partnerships and communities to make the most impact, at whatever level.
IFA Market Outlook
Laura Cross, IFA's Director, Market Intelligence Service presented the supply component of IFA's Medium-Term Outlook. Cross highlighted how fertilizer prices have reached record highs and have outpaced the broader increase in the agricultural commodity price basket. This increase comes in the context of high energy prices and geopolitical disruption. On the one hand, high fertilizer production costs and international sanctions against Russia and Belarus threaten to constrain availability, and the rising fertilizer and food prices raise the question of affordability on the other.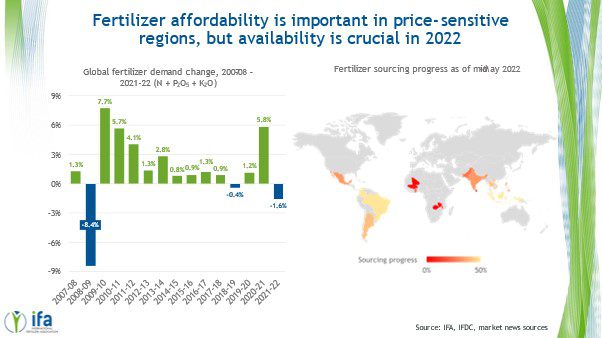 West and Central Europe, Latin America and South Asia are the most exposed regions to imports from Russia, Belarus and Ukraine. At the same time, Russia and Belarus make up a significant share of forecasted capacity expansion - 33% of the forecast nitrogen capacity expansions in the next-five years are located in sanctioned countries, and 80% for potash. Potash is expected to be the most constrained nutrient by availability due to international sanctions and likely barriers to exports. Nitrogen availability is likely to be strongly linked with gas economics and sanctions, while phosphate availability is impacted less severely, but affordability concerns still exist.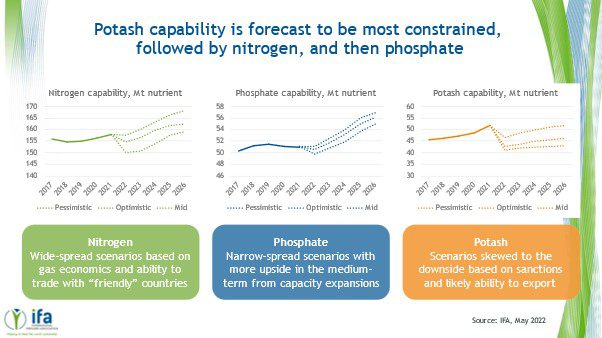 Armelle Gruere, IFA's Demand Program Manager presented the demand component of IFA's Medium-Term Outlook. Gruere emphasized that the factors most likely to impact demand were a combination of pre-existing factors (such as the main fertilizer consuming crops, access to credit, import dependency) and recent in-season factors (such as fertilizer affordability, crop prices and so-called "friendliness to Russia." Government support - both directly and indirectly - continues to play a key role in the accessibility of fertilizers by farmers in emerging markets.
Potash consumption is forecast to be the most heavily impacted of the three macro nutrients in fertilizer year 2022-23. This is mainly attributed to expected supply shortages. South Asia and East Asia are forecast to be the highest contributors to the decline in global fertilizer use. However, Africa will likely experience the sharpest drop in fertilizer use in relative terms.
Patrick Heffer, IFA's Deputy Director General concluded the session by stating:
The level of uncertainty is as high as we have witnessed in the past decade
Sub-Saharan Africa is forecast to be worst hit by fertilizer availability and affordability concerns
In this context of a looming global food crisis, there should be sufficient pressure to heed the call for nutrient use efficiency and the application of the 4R solutions.
Finding solutions to fertilizer demand and supply constraints
Tom Kehoe, Deputy Director, Agricultural Development at the Bill and Melinda Gates Foundation, commented that farmers have always been hit by many shocks, including disease, pest, heat and drought. But in recent years, the frequency has accelerated due to climate change, and has been compounded by the Covid-19 crisis, rising fertilizer prices and the disruption of international trade due to the war in Ukraine. In Africa, the sales prices of agricultural products have not increased everywhere, but fertilizer prices have. In Malawi for example, the price spread of urea and maize is 25% higher than the previous high in 2008.
Josef Schmidhuber, FAO's Deputy Director, Trade and Markets Division emphasized that in order to avoid the looming global food crisis, farmers need improved affordability of inputs. Furthermore, Russia and Ukraine will not be able to source quality seeds and certain pesticides, potentially reducing yields in these countries. In this environment, there is little prospect of avoiding a global food crisis. Some countries will boost fertilizer demand with subsidies, but the availability of fertilizer is limited, and this kind of measure could have a further negative impact on world availability and existing supply chains.
In the short-term, Stepan Yashin, Associate Partner at McKinsey and Company, indicated that the impact of conflict in Ukraine on global food security is mainly on Black Sea logistics, making Russian and Ukrainian grains exports difficult. The role of sanctions and countries building up stocks will also have an impact on trade flows. Nevertheless, the overall impact on 2022 food availability based on 2021 crops may be limited given the grains strategic reserves releases. In 2023, the consequences are expected to be greater. Sanctions and disturbed commercial activities could weaken agricultural yields worldwide, and sowing is likely to be limited in Ukraine. The overall impact on food availability is expected to be severe. Stepan repeated the call that in order to build up global resilience against food crises in the long-term, the focus should be on improving nutrient use efficiency, and the ease of trade of fertilizers and agricultural commodities globally.
Measuring sustainability and progress
Rupert Simons, Systemiq's Senior Project Manager focused on scope 3 emissions – indirect emissions that occur in a company's value chain. Simons highlighted that to arrive at a solution for scope 3 emissions, there is a need to work in partnership with farmers directly, or through engagement with others in the value chain such as distributors and retailers. Mitigation strategies may include promoting nutrient use efficiency and 4R solutions, precision agriculture and adoption of new and emergent technologies such as the use of blended fertilizers and stabilized fertilizers. Other tools include crop rotation, dietary shifts where it is appropriate for different countries and better management of farm inputs. Fertilizer industry actions could be led by providing 4R solution products, knowledge sharing (e.g., agronomy) and research and development initiatives. This could be done through collective activities through bodies such as IFA, standards and certification schemes and policy reforms on efficient fertilizer use.
To close the day's sessions, a panel discussion led by Burcu Turkes, Corporate Sustainability, Risk and Governance Director at Toros Agri Industry and Trade Co. Inc. focused on sustainability initiatives across the fertilizer industry. The panelists represented industry, consultant and financial institutions, and all agreed the importance of appropriately measuring progress toward sustainability in order to track progress over time. The following day, a session on gender diversity in the fertilizer industry and agriculture connected gender and sustainability. Providing women smallholder farmers with tailored-services and products and recruiting more women into the global fertilizer industry, are good for business and contribute to companies' sustainability goals.
We would like to thank all of the presenters and panelists for their unique and valuable contributions to the program at this year's Annual Conference, and we look forward to moving ahead as an industry on the many good ideas and initiatives that were discussed in Vienna that will help in our mission of helping to feed the world sustainably.