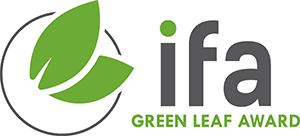 The IFA Green Leaf Award recognizes outstanding performance in safety, health and environment (SHE) in fertilizer production among the Association's membership. It is an integral part of the Protect & Sustain product stewardship initiative.
IFA awarded its prestigious 2022 Green Leaf Award for excellence in safety, health and environmental performance to ICL Iberia and Yara India during its IFA Annual Conference in June, 2022.
ICL Iberia, Suria plant, Spain received the award in the phosphate/potash producer category for its excellent environmental case study – on actions taken to further lower greenhouse gas emissions at the Suria plant – and overall management for safety, health and the environment (SHE) of a fertilizer mining site.
Yara India, Babrala plant, Uttar Pradesh received the award in the nitrogen producer category by demonstrating a world class SHE management program with a hands-on approach across the plant and active monitoring, including during the Covid-19 response.
Arab Potash, Jordan earned second place in phosphate/potash producer category. In particular, the judges noted the company's water conservation innovations. Fatima Fertilizer Company, Ltd., Pakistan achieved second place in the nitrogen producer category. Judges cited exceptional safety performance.
Applicants for the Green Leaf Award, all members of IFA, undergo an extensive evaluation of performance indicators by an independent panel of experts. IFA runs the award every two years and received a record 25 eligible applications for 2022.
In 2020, we had a first time ever tie in our N-producer category: Yara's Ravenna plant in Italy and Pupuk Kalimantan Timur's plant in Indonesia arrived at the same score and both received IFA's 2020 Green Leaf Award. In our P/K-producer category, the 1st price went to OCP in Jorf Lasfar (JFC1), Morocco.
The SHE programs and initiatives of these three candidates demonstrated in an impressive manner how responsible fertilizer production should look like in 2020 and that SHE management can be integrated throughout the value chain.
The 1st runners-up of IFA's 2020 Green Leaf Award was Engro Fertilizers (Pakistan) in the N-producer category and IFFCO's Kandla Unit (India) in the P-producer category.